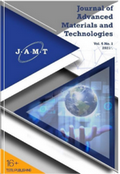 Journal of Advanced Materials and Technologies
Is a peer-reviewed scientific journal of research in materials science and related issues in materials physics and mechanics.
Journal publishes original articles, reviews, short reports written by both renowned scientists and young researchers that contribute to the development of modern materials science.
ISSN 2782-2192 (Print)
ISSN 2782-2206 (Online)
The journal promotes research and exchange of information in the field of theoretical and practical research into materials science, modeling of processes involved in the creation of new materials, including nanomaterials, their properties and application.
Scientific Journal is registered by the Federal Service for Supervision of Communications, Information Technology, and Mass Media (The certificate of registration PE No. FS 77-74804 of 25 January 2019 – periodical printed edition, journal)
The journal papers and metadata are available at Chemical Abstracts, CAS (American Chemical Society), Google Scholar, WorldCat, ROAR (Registry of Open Access Repositories), OpenAIRE (OpenAIRE - Open Access Infrastructure for Research in Europe), BASE (Bielefeld Academic Search Engine), RePEc: Research Papers in Economics, EBSCO.

Tambov State Technical University (TSTU)
Tambov, Russian Federation.

Merzhanov Institute of Structural Macrokinetics and Materials Sciences of Russian Academy of Sciences (ISMAN),
Chernogolovka, Moscow region, Russian Federation.
Circulation: 100 copies, periodicity: 4 times per year
Distribution: - Russia and abroad
Publisher: Tambov State Technical University
Rename information: «Advanced materials & technologies» (2016-2021), Print ISSN 2414-4606, Online ISSN 2541-8513
Chief Editor
Mikhail I. Alymov,
D.Sc.(Engineering), Professor, Corresponding Member of the Russian Academy of Sciences (RAS), Director of Merzhanov Institute of Structural Macrokinetics and Materials Sciences (ISMAN), RAS, Chernogolovka, Moscow Region, Russian Federation